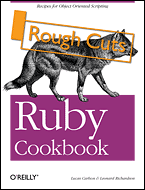 Currently online O'Reilly is selling the rough cuts version (basically the beta version) of the Ruby Cookbook. It's a pleasure to see that many good books about Ruby are being published.
This book authored by Leonard Richardson and Lucas Carlson is particularly special to me. In fact, I have contributed to the book with three recipes and related full-length explanations. My recipes are about using RMagick to achieve common image manipulation tasks, as I love photography and I like RMagick a lot!
The recipes are Thumbnailing Images, Adding Text to an Image and Converting Among Image Formats. While these tasks are quite easy to achieve thanks to Tim Hunter's library, I tried to go the extra mile and provide a good sort of introduction to the library, within the limits of the problem/solution framework of these kind of books.
It's my first contribution to an O'Reilly book and I'm humbly proud of it. I look at it as a stepping stone until the day when I'll publish my own book about Ruby 🙂
Get more stuff like this
Subscribe to my mailing list to receive similar updates about programming.
Thank you for subscribing. Please check your email to confirm your subscription.
Something went wrong.