Posted on Jan 30th, 2006 in
Programming
|
7 comments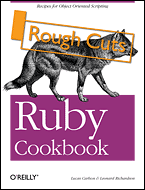 Currently online O'Reilly is selling the rough cuts version (basically the beta version) of the Ruby Cookbook. It's a pleasure to see that many good books about Ruby are being published.
This book authored by Leonard Richardson and Lucas Carlson is particularly special to me. In fact, I have contributed to the book with three recipes and related full-length explanations. My recipes are about using RMagick to achieve common image manipulation tasks, as I love photography and I like RMagick a lot!
The recipes are Thumbnailing Images, Adding Text to an Image and Converting Among Image Formats. While these tasks are quite easy to achieve thanks to Tim Hunter's library, I tried to go the extra mile and provide a good sort of introduction to the library, within the limits of the problem/solution framework of these kind of books.
It's my first contribution to an O'Reilly book and I'm humbly proud of it. I look at it as a stepping stone until the day when I'll publish my own book about Ruby

If you enjoyed this post, then make sure you subscribe to my Newsletter and/or Feed.