Posted on Jun 2nd, 2010 in
Technology
|
6 comments
Apple is receiving copious amounts of bad press due to their somewhat arbitrary and restrictive App Store policies. This isn't going to change a thing at Apple, but the complaints are warranted. Android on the other hand is touted as being "the open platform", and developers are invited to develop and sell their apps on the Android Market, rather than investing in a proprietary platform like the iPhone OS and the App Store.
So much for being open
When discussing the main emerging alternative platform, Android, we often hear about fragmentation issues, but critics tend to ignore the elephant in the room. Very few people can buy and sell apps on the Android Market. In fact, only developers from nine countries are allowed to sell applications on the Android Market. Take a look at the following map I prepared: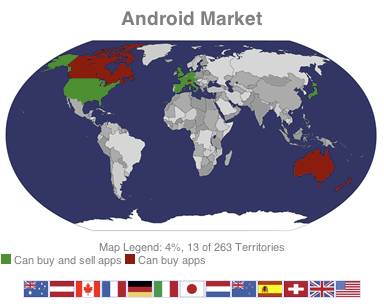 Fine folks from Canada, Australia, New Zealand, Denmark, Sweden, Ireland, Russia, China, India, etc, are all excluded from this platform. Sure, they can sell apps on their own sites, but the real advantage of the App Store and the Android Market is in their ability to show and sell apps to a wide audience. If you lose that, you are pretty much out of the game or you'll be starting off with a humongous disadvantage.
Is this the best Google can do?
Before you jump in and cut Google some slack, remember that the Android Market has been around for almost two years. As much as I want to cheer for the underdog, one has to ask if Google really thinks that this half-assed attempt will challenge the absolute supremacy of the App Store in the marketplace. How much innovation, money, and good will are they leaving on the table? Keep in mind that there is no stevejobs@google.com. Google is notoriously bad when it comes to supporting and listening to their customers, because trust me, I'm not the only one complaining about this.
I want to believe in the future of Android and the prospect of developing for it, but like many other developers I don't even have the option. If I wanted to develop in the emerging mobile market and perhaps make some money out of it, it's the iPhone OS way or the highway.
If you enjoyed this post, then make sure you subscribe to my Newsletter and/or Feed.
Leave a Reply
I sincerely welcome and appreciate your comments, whether in agreement or dissenting with my article. However, trolling will not be tolerated. Comments are automatically closed 15 days after the publication of each article.