Posted on Jun 23rd, 2008 in
Programming
|
6 comments
Call it Murphy's law if you will, but over the weekend my MacBook Pro's charger cord developed a nasty rip (see photo). I tried electrical tape and other (potentially) "unsafe" measures, but to no avail. My laptop has no charge and is essentially dead. I've ordered a new MagSafe power adapter and it should be here in a few days (I hope).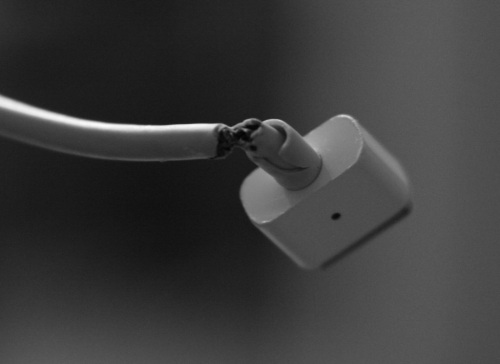 This means that the shootout testing that was planned for tomorrow (the 24th), will have to wait just a few days. On the bright side, this should give you time to send us more benchmarks. 😛
If you enjoyed this post, then make sure you subscribe to my Newsletter and/or Feed.
Leave a Reply
I sincerely welcome and appreciate your comments, whether in agreement or dissenting with my article. However, trolling will not be tolerated. Comments are automatically closed 15 days after the publication of each article.