Posted on Jan 5th, 2007 in
Programming
|
3 comments
While working on a presentation for a series of conferences that I'll be speaking at, I've put together this image, to convey the attention that Ruby and Rails are currently getting from publishers. Feel free to use it for your own presentations, optionally crediting it to me if you'd like (you don't have to).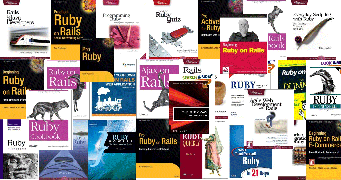 The list of books may not be complete. And yes, the book images are from Amazon.com
If you enjoyed this post, then make sure you subscribe to my Newsletter and/or Feed.