Posted on Sep 20th, 2011 in
Technology
|
0 comments
Yesterday I ran a poll amongst Hacker News participants in which I asked them to indicate which mobile platforms they develop for. Here are the results for the first 24 hours, in chart format, of that poll. Keep in mind that participants were allowed to select more than one platform if they develop for more than one.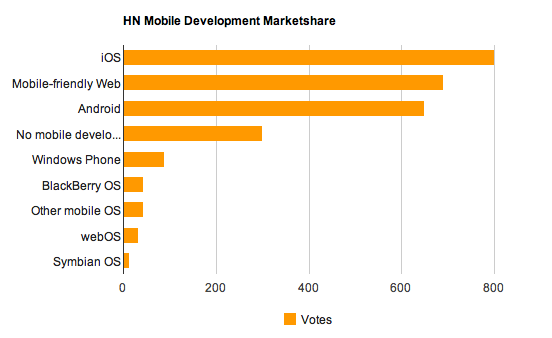 I'm very much impressed by the number of people developing for Android. Not far off from iOS. I also find it remarkable that Windows Phone has more developers, among this particular group of developers, than BlackBerry OS.
This isn't a scientific survey in any way, but nevertheless it gives us an interesting insight into the world of mobile development.
What are your thoughts? Is there anything that surprises you about these results?
If you enjoyed this post, then make sure you subscribe to my Newsletter and/or Feed.
Leave a Reply
I sincerely welcome and appreciate your comments, whether in agreement or dissenting with my article. However, trolling will not be tolerated. Comments are automatically closed 15 days after the publication of each article.