Posted on Mar 29th, 2010 in
Programming
|
0 comments
ThinkCode.TV's English site is going to be launched on April 19th. To celebrate the upcoming launch and whet your appetite, a 19 minute long screencast about solving ASCII mazes with a few lines of Python code was just released for free. This video serves to illustrate Python's elegance and power, as well as ThinkCode.TV's approach to screencasts and education.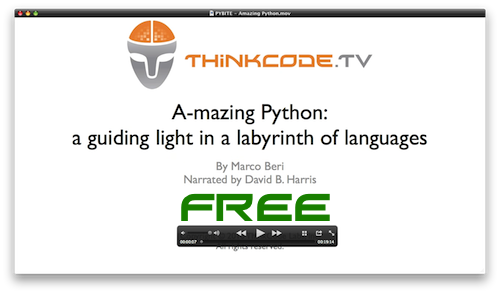 In order to download the screencast, you don't need a credit card, to provide your address or even your last name. Just head on over to this page and join the newsletter. Upon confirming your subscription, you will immediately receive an email with links to DRM-free, 720p HD files in the formats QuickTime Movie (.mov), AVI and Ogg Theora (.ogv). These videos are in English, prepared by a published serial author on the subject of Python/Django, and narrated by a native English speaker. They also include optional subtitles in the .srt format, as well as the source code which is released under the MIT license, as is customary for ThinkCode.TV to do.
I hope you enjoy the free screencast and stay tuned for the launch in three weeks.
If you enjoyed this post, then make sure you subscribe to my Newsletter and/or Feed.
Leave a Reply
I sincerely welcome and appreciate your comments, whether in agreement or dissenting with my article. However, trolling will not be tolerated. Comments are automatically closed 15 days after the publication of each article.