Posted on Aug 28th, 2009 in
IBM
|
15 comments
Earlier today I headed over to the local Apple Store to purchase a copy of Snow Leopard, the newest version of Apple's operating system. There was a decent line up, as I expected. Not the kind of line up you'd encounter with the launch of a new iPhone, but it was fairly busy for a Friday morning. When I arrived, I took my place at the end of the queue where rumors were swirling around about the store having sold out of single copies of Snow Leopard in its first hour. Luckily, that was just a rumor as I suspected, and they still had a few copies left. So I got my copy for $39.99 (CND) including taxes and left.
The installation was pretty much automatic and took roughly an hour. No versions to select from, no serial numbers to insert, no online activations, and a price that "keeps honest people honest". Yes, it's just an update, but $25 (US) for an improved operating system is definitely a fair price. Microsoft are you listening? My first impression is that Snow Leopard is a very polished version of Leopard and it's darn fast. Well done Apple.
DB2 users may be wondering if it is safe to install this version of Mac OS X 10.6 or if their existing installation will go awry. I'm happy to report that DB2 Express-C 9.5 FixPack 2 for Mac works fine on Snow Leopard. Both pre-existing installations and brand new installations of DB2 work properly, I can attest to that. So install away my friends!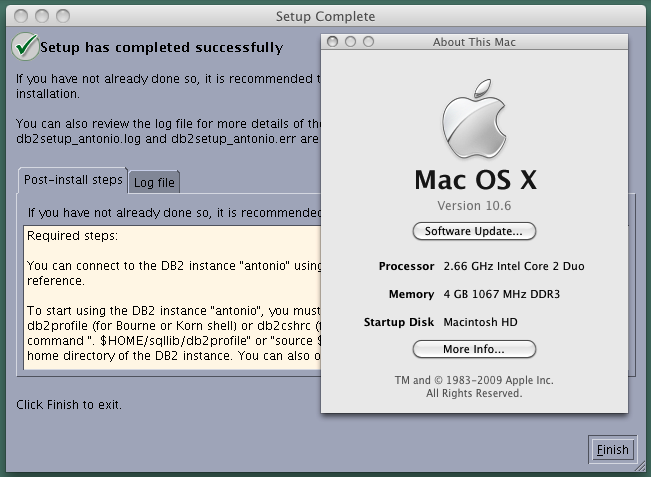 If you enjoyed this post, then make sure you subscribe to my Newsletter and/or Feed.
Leave a Reply
I sincerely welcome and appreciate your comments, whether in agreement or dissenting with my article. However, trolling will not be tolerated. Comments are automatically closed 15 days after the publication of each article.