Posted on Oct 6th, 2008 in
Programming
|
1 comment
Later today, SapphireSteel is going to release a free 'personal' version of their Ruby in Steel IDE (based on the Visual Studio Shell). This is great news for those of you who are used to Visual Studio and are now switching to Ruby/Rails, or simply for developers who opt to work on Windows (both categories of developers may also be interested in my forthcoming book).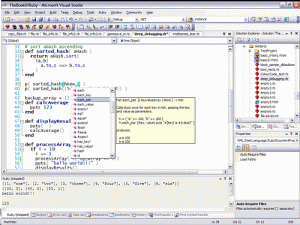 This has not been officially announced, but trust me, the free version should become available later today, so keep an eye on their site. Enjoy! 😉
UPDATE: Direct link to the announcement.
If you enjoyed this post, then make sure you subscribe to my Newsletter and/or Feed.
Leave a Reply
I sincerely welcome and appreciate your comments, whether in agreement or dissenting with my article. However, trolling will not be tolerated. Comments are automatically closed 15 days after the publication of each article.