Posted on Aug 5th, 2008 in
Programming
|
12 comments
Ruby on Rails for Microsoft Developers is now available for pre-order on Amazon.com. Contrary to what the Amazon page states, the publication date is planned for the middle of December, not January. Similarly, the description is quite messed up and loosely based on the first outline. It almost makes it sound like a book on Ruby as opposed to one on Rails. In reality, only two chapters are dedicated to Ruby, while all the others are Rails specific. A more accurate description should be up soon though.
This is the cover, with the picture of yours truly. Ladies, easy on the emails, I'm happily married. 😛 Jokes aside, I'll share a bit of trivia about the picture with you. The few decent photographers in the area quoted me outrageously high numbers just for the one shot I needed for the cover. Being passionate about photography, I ended up shooting it myself, so it's a self-portrait. I wonder if it's a first in the world of Wrox covers.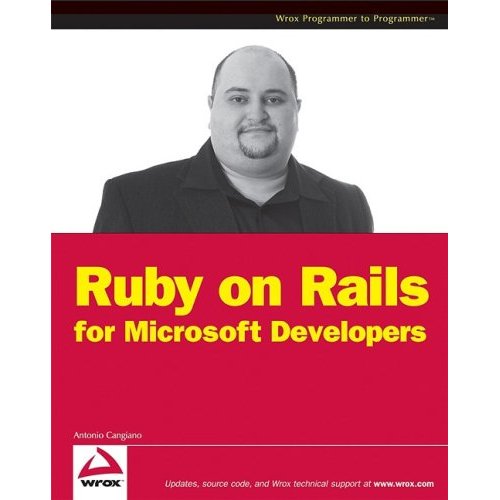 Page-wise, I've written roughly half the book, which is going to be about 450 pages, and I expect to finish writing sometime in October.
If you enjoyed this post, then make sure you subscribe to my Newsletter and/or Feed.
Leave a Reply
I sincerely welcome and appreciate your comments, whether in agreement or dissenting with my article. However, trolling will not be tolerated. Comments are automatically closed 15 days after the publication of each article.