Posted on Jul 18th, 2008 in
General
|
16 comments
If we exclude resellers, there aren't too many Internet Service Providers (ISP) available to residential customers in Canada. It is in fact my understanding that the market of ISP who own their own infrastructure in Toronto is limited to a duopoly between Rogers and Bell.
I've been with Rogers for the past two and a half years and I must say their service has always been quite satisfactory in terms of speed and reliability. At $54.95 per month they are not exactly cheap, and they place a cap on the amount of monthly traffic, but otherwise they offer up pretty decent service.
Rogers gained a bad rep though, because they do traffic shaping. This means you can forget about making Skype calls in peace, legally using non-throttled P2P systems or legitimately download, using BitTorrent at a decent speed (saving encryption workarounds). More recently, they also came under fire for proposing the second most expensive iPhone plans in the world.
More importantly though, a while ago they started rewriting the pages that their customers visited, in order to warn them of their high internet usage.
Now however, they've reached a new low. They figured out that hijacking their customers' user experience can be a very lucrative thing. Today I discovered that if you type a non-existing URL, Rogers will automatically redirect you to a page chock-full of ads, and a few possible matches (in reality they are mostly unrelated results).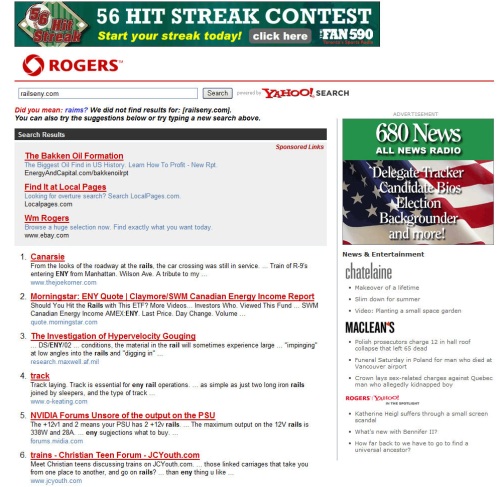 They're like the evil twin of OpenDNS, making money off of less Internet-savvy users who may not be aware that they can disable this "feature". Clicking on "Learn more about this page" at the bottom of the page we're brought to a "Click here if you would no longer like to receive the Rogers Supported Search Results service." link, where any Internet-savvy user will opt out.
This being an oligopoly, there aren't many choices available, but I'm a big believer in "voting with your money", so not only will I switch to a different ISP, but I'll also let them know why. At this stage the most likely candidate is Tech Savvy, but they're slower than Rogers and throttled by Bell anyway. Other ISP suggestions are definitely welcome.
If you enjoyed this post, then make sure you subscribe to my Newsletter and/or Feed.
Leave a Reply
I sincerely welcome and appreciate your comments, whether in agreement or dissenting with my article. However, trolling will not be tolerated. Comments are automatically closed 15 days after the publication of each article.